For more information about the hand-crafted Lash Extensions service types available at Tan Lash & Beauty Perth, visit Eyelash Extension Styles .
---
Testimonials
Genuine feedback from verified customers is invaluable!
To guarantee authenticity, our merchant provider tracks every user who purchases our services electronically and sends them an automatic invite to leave confidential feedback post-service. 
Of the 231 reviews analysed since survey implementation in 2019, a "Positive" sentiment was recorded in 93.26% of responses.
---
Lash Lift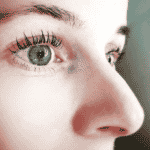 Tan Lash & Beauty was one of the first salons to introduce Lash Lifts to Perth several years ago following their success on the East Coast. An alternative to extensions, this treatment will relax, lift and then reshape your natural lashes from the root.
The intricacy, precision and fine motor skills developed by years of Lash Extension experience are crucial to a successful Lash Lift .
Learn all about the latest trend in Lash Technology.Eyelash Lift
---
Henna Brows Perth
Tan Lash & Beauty Lash Artists are also skilled Brow Stylists and specialise in the widely popular Henna Brows. A Henna Brow Transformation includes the Shaping, Sculpting & Re-Design of your Eyebrows to perfectly complement your facial structure. Not only does this treatment dye the brow hair but it will stain the skin underneath with natural Henna, meaning we can create fuller brows without penciling in.
---
Spray Tanning
Perth Tans was established in 2009 and has enjoyed a decade as Perth's Premier Tanning Specialists. Now our Tan Lash & Beauty Locations are local spray tanning hubs for North Perth, City West Perth & our partner salon in Cannington. The flawless, even tans we produce in a 10 minute appointment look natural and save you a messy, patchy home job for the same price.
We offer Naked Tan, Aviva, Tuscan Tan in options which range from 20 Minutes development time, to 1-2 hours to options you can leave overnight. Visit our spray tanning focused pages for specialised tanning information. Perth Tans ⎢ Spray Tanning
---
Perth Lash Salon Locations
Shop 4 The Walcott Centre, 265 Walcott St
North Perth
Shop 13 City West, Plaistowe Mews
West Perth
53 Cecil Avenue
Cannington
---
Salon Hours
Yes, we're Open Late!
For your convenience we have evening appointments available through out the working week.
We update our calendar live through out each day and if a cancellation or appointment is available you can make a booking just hours ahead.
Browse our Live Calendar below to place your online booking.
By Appointment
| | |
| --- | --- |
| MONDAY | 9 AM – 7.30 PM |
| TUESDAY | 9 AM – 7.30 PM |
| WEDNESDAY | 9 AM – 7.30 PM |
| THURSDAY | 9 AM – 9.00 PM |
| FRIDAY | 9 AM – 6.30 PM |
| SATURDAY | 9 AM – 5.30 PM |
Online Booking
---
Follow our instagram to see the recent work of our our talented team!
https://instagram.com/
perthtanslashbeauty 💖
---
Gift Vouchers
Tan Lash & Beauty Gift Voucher Experience are one of Perth's most popular choices for presents this year. The recipient will be treated to the ultimate luxury in salon pamper session to celebrate their special day.
You can purchase a voucher online, print immediately or email to your recipient or stop in to collect collect one of our hard copy Gift cards from the North Perth salon today. Choose any amount you wish for your voucher. Buy Now
---