For more information about the hand-crafted Lash Extensions service types available at Tan Lash & Beauty Perth, visit Eyelash Extension Styles .
---
Lash Lift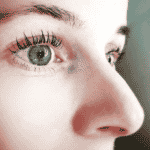 Following their success on the East Coast several years ago, Tan Lash & Beauty was one of the first salons to introduce Lash Lifts to Perth several years ago. Available as an alternative for those whom may not be suitable for or desire extensions, this treatment will relax, lift and then reshape your natural lashes from the root.
The popularity of the treatment has seen it spread rapidly but the intricacy, precision and fine motor skills developed by years of Lash Extension experience sets the Lash Lift results produced by our team apart.
Learn everything you need to know about the latest trend in Lash Technology.
---
Henna Brows Perth
Lash & Brow design can now be the seamless experience it was intended to be with the addition of Eyebrow Tinting & Waxing services to Tan Lash & Beauty.
The addition of some well established 'Brow Queens' with their own following to our team in the last two years saw them convert us all to THE hottest trend in Brow Design: Henna Brows. These perfectly sculpted brows are the non-tattooed version of Brow Design, create results that last for weeks on the skin and 6-8 weeks on the hair are the perfect compliment to Fresh, Fluffy Lashes.
A Henna Brow Transformation includes the Shaping, Sculpting & Re-Design of your Eyebrows according to your facial structure. The unique ability to not only dye the brow hair but stain the skin underneath means you'll never have to pencil in your eyebrows again.
---
Spray Tanning
Perth Tans was established in 2009 and has enjoyed a decade as Perth's Premier Tanning Specialists. Now all Tan Lash & Beauty Locations including North Perth, City West Perth & our partner salon in Cannington have become local spray tanning hubs.
We regularly invest in equipment upgrades and take confidence in the fact we are supported by the best spray tanning tools available on the Australian market. The flawless, even tans we can produce in a 10 minute appointment cannot be distinguished from a natural tan. Nor can they be compared with the patchy, orange hue risked by attempting to spray tan yourself with a hair-dryer like device and inferior solution often long since expired.
Our carefully selected tanning solution range showcases Industry Giants including salon exclusive Tuscan Tan, Aviva and Naked Tan. Our newest addition Luxe 20 Min Tan allows the recipient to shower from as little as 20 minutes post-appointment, extremely popular for last minute bookings.
Visit our spray tanning focused pages for specialised tanning information.
Perth Lash Salon Locations
North Perth
Walcott Street
West Perth
Plaistowe Mews
Cannington
Cecil Avenue
---
Salon Hours
Yes, we're Open Late!
For your convenience we have evening appointments available through out the working week.
We update our calendar live through out each day and if a cancellation or appointment is available you can make a booking just hours ahead.
Browse our Live Calendar below to place your online booking.
By Appointment
| | |
| --- | --- |
| MONDAY | 9 AM – 7.30 PM |
| TUESDAY | 9 AM – 7.30 PM |
| WEDNESDAY | 9 AM – 7.30 PM |
| THURSDAY | 9 AM – 9.00 PM |
| FRIDAY | 9 AM – 6.30 PM |
| SATURDAY | 9 AM – 5.30 PM |
Online Booking
---
Follow our instagram to see the recent work of our our talented team!
https://instagram.com/
perthtanslashbeauty 💖